Looking for a night light for the apple of your eye? These fairy light lanterns on a crescent moon stand filled add artful ambiance to a bookshelf, table or nightstand.

🌟Let the Enchanted Lunar Lamp's warm, comforting glow soothe your soul. The lamp is bright enough to be used as a book light, yet dim enough to create an enchanting atmosphere.
Transform any room in your home into a magical wonderland with the Enchanted Lunar Lamp. It's time to find your inner oasis and immerse yourself in magic🧙‍♀️.
The exquisite appearance, whether at home or in the office, will exude a unique charm to attract everyone's attention.
At night, the little moonlight will fully show its charm, and the warm and warm light will accompany you, making you not feel a person's desertion and loneliness.
The special moon light will add a warm atmosphere to your home and you will not feel alone in the dark.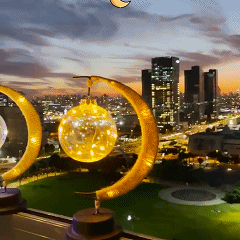 FEATURES:
The lamp is designed with a crescent shaped lamp holder

Soft and elegant appearance, the combination of stars and moon

High performance LED light

It is not only a table lamp, but also a decoration, but also a treasure.

Soft, non-flicker design, the lighting is pleasing to your eyes, helping you to avoid eye strain caused by flickering light and strong reflections.
🌙PRODUCT SPECIFICATIONS: