This handmade mixed ceramic wind chime garden bell features a beautiful carved starburst pattern, accented by a large copper wind sail with a patina finish. A small ceramic sculpture of a blue bird sits atop.
Our wind chimes serve so many purposes, besides just beautiful garden décor. They alert you to the severity of the wind that day, will scare off birds and animals that you don't want in your garden, and will create a peaceful, zen-like sound for the outdoors with a wooden clapper. Makes a perfect wedding or housewarming gift. Unglazed stoneware clay fired to 2200 degrees makes it very durable.
HOW THEY WORK: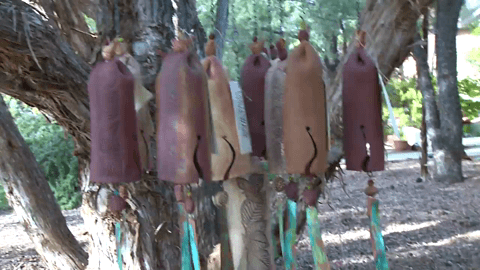 INSTRUCTIONS FOR USE:
Hang on a sturdy branch or hook. Bring indoors in extremely cold weather to help with longevity.

PLEASE NOTE:
As each bell is individually handcrafted, there will be slight variations from the photo seen above.

SPECIFICATION:

Bell length: 6.5-7.5 inch
Total length: 13" to 14", 2 1⁄2" W , 6" hanging chain included